IIT Gandhinagar: Story of Foundation
Aiming to offer the best technical education with unrivalled innovation in curriculum, Indian Institute of Technology Gandhinagar promotes logical thinking and project-oriented learning in students.
Started functioning under the guidance of IIT Bombay, IITGN is now an independently functioning institution with state-of-the-art facilities and several disciplines in Engineering, Sciences and Humanities & Social Sciences.
Established by MHRD in 2008, IITGN initially started its operation from a temporary campus at Vishwakarma Government Engineering College, Chandkheda and later in 2015, it shifted to its permanent 400-acre campus near Palaj.
Started functioning with 103 students into three engineering streams (Chemical, Mechanical, Electrical), now this institution has over 1,000 students in a wide array of disciplines and close to 100 faculties.
Committed to the welfare of the students, IITGN not only helps students to grow academically but also develops their leadership and managerial skills. Providing students with rigorous academic training and a stimulating campus environment, IITGN encourage young minds to think beyond the convention.
IIT Gandhinagar: Practical learning approach that goes beyond the classroom
Conducting regular workshops, debates and conferences IITGN always strives to promote practical learning in students. Organizing short courses, workshops IITGN not only helps students to hone their knowledge but also it encourages students to learn beyond their regular curriculum.
Besides, regular PG, UG and Doctorate programmes IITGN offers a wide array of short-term courses and workshops for its students enabling them to thrive in the new global competitive environment. Allowing the students to upgrade their knowledge, IITGN offers some amazing GIAN approved courses covering some latest areas of cutting-edge technology and science. Organizing workshops and conferences in a wide variety of topics, it helps both the students and the industry professionals to upgrade their skill.
IITGN has a Student Council and Student Senate who are responsible for strategy building and the management of student activities on campus. The student council takes active participation in conducting nation's only student-driven tech summit Amalthea every year.
IITGN has a dedicated Cultural Council who fosters creativity among students and encourages them to follow their passion. IITGN has some on-campus dedicated hobby clubs that include 16 Pixels, Abhinaya, Sargam, Sargam, Mean Mechanics etc.
Be it encouraging students to invent something revolutionary, nurturing their passion or promoting extra-curricular activities, IIT Gandhinagar leaves no stone unturned to provide the best support and stimulating environment to its students.
Schedule for Workshops at IIT Gandhinagar
Organizing a wide array of seminars, workshops and courses IITGN opens new avenues of learning for the students. Offering a platform to exhibit their talent and innovative skill, IIT Gandhinagar encourages young minds to think new.
To check out the complete schedule of IIT Gandhinagar workshops, check the upcoming event page on the official website.
Amalthea
Amalthea is the two-day long annual technical summit of IIT Gandhinagar. Known as the only student-driven technical fest in India, Amalthea was first organized in 2010 with an aim to spread technical knowledge in students. Conducted every year during the fall, this technical extravaganza imparts technical knowledge and encourages young minds to use science for the betterment of humankind. The summit's tagline is prosperity through technology.
Started off with only the Conclave, this tech summit now includes a variety of other activities like Exhibition, Symposium, along with several technical events, competitions and many more. Bridging the gap between, academia and industry, this tech summit brings together some of the best minds from the corporate sector and academic worlds to create a platform for meaningful interaction. Allowing students to display their innovation at Amalthea events, IITGN not only gives the students an intellectual stimulation but also encourages the budding engineers to think beyond the convention.
Every year Amalthea attracts thousands of students from different colleges across the country. While the online registration facility for Amalthea events and conferences are available, for the main events students have to present at the IITGN campus.
[slideshare id=80609632&doc=lr-waccollegecoverage-171009135435]
WAC Workshops
Aiming to help students to select the best career options, the flagship event of Vidyavilla Foundation, What after College (WAC) is conducted at IIT Gandhinagar. This one-of-a-kind career guidance event brings together best names in the fields of education and veteran industry leaders to highlight the several career opportunities available to students after their college course. With their deep insight, years-long experience and up-to-date information these great experts help students to select the most relevant career option that appeals to their personal interest. Several WAC workshops are organized at IIT Gandhinagar in association with Students Council.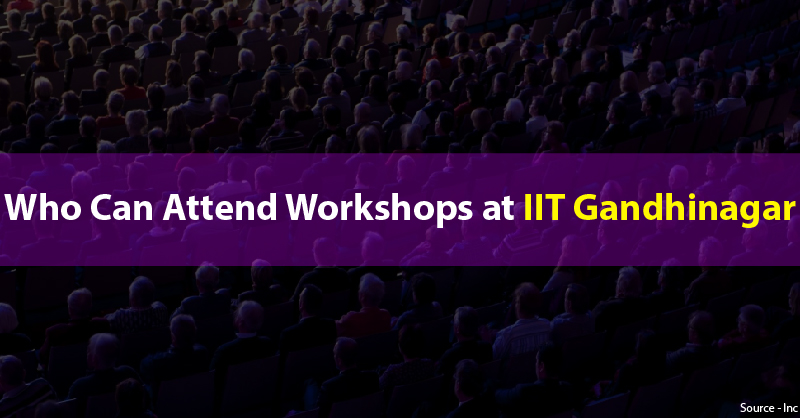 Who can attend Workshops at IIT Gandhinagar
IITGN offers a wide verity of short-term courses, workshops for students, professionals and even for teachers enabling them to upgrade their skills. There are several GIAN approved certification courses, which are open for all the young engineers across all the colleges in the country. Even a few workshops and GIAN courses are exclusively designed for working engineers, faculty and research students to hone their knowledge. While most of the courses organized by IITGN are accessible for all the budding engineers across the nation, a couple of the workshops and programmes are only open for the IIT Gandhinagar Workshops students. Do check youreligibility on the registration page of the specific course you intend to apply.
Why Attend Workshops at IIT Gandhinagar?
IIT Gandhinagar Workshops was honored with the World Education Award 2013 for innovation in engineering education at the World Education Summit. Considered as one of the most coveted institutions for technical education, IIT Gandhinagar Workshops attracts some of the best industry veterans, educationists and faculty to address the workshops organized at its campus. Providing students' with a deep insight into the upcoming market trend and present scenario, the eminent experts help them to achieve successful career choices.
Enabling students to interact with such great people who have already carved a niche in their respective fields, IIT Kanpur workshops allow you to strengthen your network, which plays an important role in your career.
How to reach IIT Gandhinagar?
Located at Palaj, Gandhinagar, Gujarat, this institution is well connected with other major states of India by road, rail and air. The main campus of IITGN is situated at a distance of nearly 30 km from the Ahmedabad Railway Station. From Ahmedabad station takes an auto to get to the IIT Gandhinagar campus that would cost you RS 200-300.
The nearest International Airport is Sardar Vallabhbhai Patel International Airport, Ahmedabad, nearly 30 min drive from IITGN. Typical fare from airport to Palaj by taxi is nearly Rs 300-400.
You can easily find regular state and private buses running from Palaj to in and around Ahmedabad and other major cities of Gujarat.
Accommodation at Gandhinagar
For few workshops and seminars conducted by IIT Gandhinagar, accommodation is provided for students directly on the campus. For other events, students are asked to arrange their stay by themselves outside the campus. You can find several good hotels in Palaj and Gandhinagar catering to all budgets. Make sure to confirm the accommodation details with the event organisers before the programme.
Address
Indian Institute of Technology Gandhinagar,  Palaj, Gandhinagar – 382355, India
Phone Number: 079-2395-2032 / 2033
Email: director@iitgn.ac.in
Official website: https://www.iitgn.ac.in/
Upcoming Workshops at IIT Gandhinagar
For complete details on upcoming conferences, workshops and seminars scheduled to be organized at IITGN check out this page https://www.iitgn.ac.in/gian/courses.php. To get more information on the registration process, course fee, eligibility etc go through the individual official page of the workshops, seminars you intend to attend. check out upcoming workshops at IIT Gandhinagar.