There are many technologies and programming language which don't have significant importance when it was invented. Later due to the evolving world they are getting used and it's important to learn them. Being a new learner you have many choices and also think to self learn. It is good but not many will able to learn on their own at the beginning they need help. Here is the list of top 7 Python Institutes in Kanpur.
TIPS TO HELP YOU CHOOSE FROM THE TOP 7 PYTHON INSTITUTES IN KANPUR
Check on how much the certificate you get from the institute is valid so it will improve your resume and make you stand out of the crowd while attending a job interview. Other factors that matter while choosing the institution are the location from your home, fee structure, and faculty reputation. These are some of the basic facilities needed here are a few good python institutes in Kanpur.
Rank 1: BTPS
BTPS is one of the famous python Institutes in Kanpur. It is located in the Geetha Nagar in Kanpur and offers both online and offline classes. The reviews about the institution are really good. The institution operates from 7 am to 8 pm daily except Sundays. The batch size is limited and fee structure quite decent for a good rated institute in Kanpur.
The course curriculum all the essential fundamentals needed for building a medium scale python program and duration of the course is six weeks.
Contact
Phone: 91 9044900033
Email: btpsindia@gmail.com
Website:http://btps.co.in/
Rank 2: Webpages Ganges tech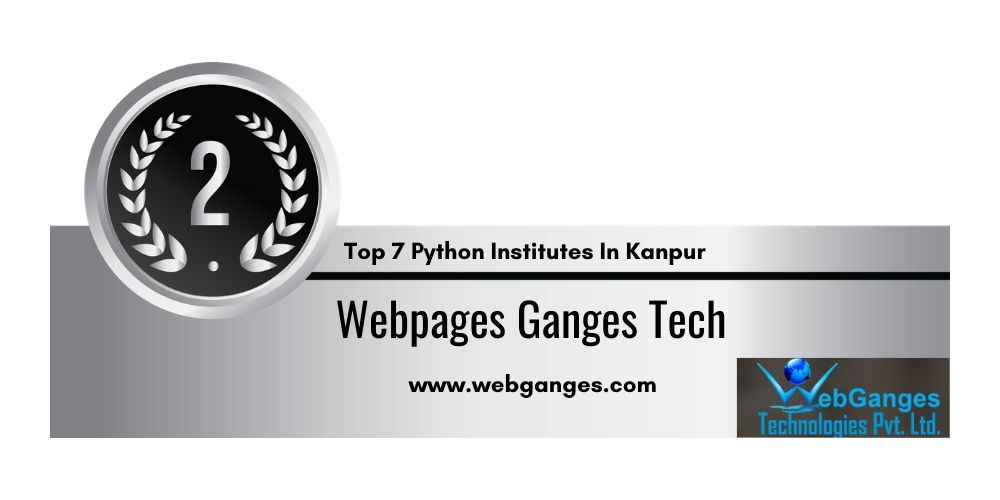 Webpages Ganges tech is located in Bengali colony in Kanpur. The institute function from 9 am to 7 pm from Monday to Thursday and an extra hour for rest two days of week Sunday is a holiday. The batch size is decent and the fee amount is INR 5000 for learning python in this institute. The faculty reputation and review abt this institution is good.
The course curriculum covers all the base topics of python and make you well efficient in the basics of python.
Contact
Phone: +91-7084 185 185
Email: support@webganges.com
Website: www.webganges.com
Rank 3: Highprosoft
Highprosoft is located in Sharda Nagar Road. The institute is ranked among one of the top python Institutes in Kanpur. The institute operates from 10 am- 6 pm. The fee structure is affordable for a student and the institute has a good reputation among the students. The course curriculum covers all the essential topics that are needed for a noobie in python.
Contact
Phone: +91-8601017712
Email: highprosoftindia@gmail.com
Website: https://www.highprosoft.net/contactus.html
Rank 4: Teach tech service
Teach tech service offers a good teaching to its students the institute is located in Ratan Lal Nagar. The fee structure for learning python is 4200 INR and the course covers all the basic needs for learning python. It has a good set of faculty members and has a good environment for learning.
Contact
Phone:+91 9023647226
Email:tts@teachtechin.com
Website: https://www.teachtechin.com
Rank 5: Unitec coaching center
Unitec coaching centre has a reputed name in Kanpur and also the reviews about the institution are good. The institute is located in 11-C Block Panki Road, Kanpur and they charge a nominal fee for learning python and the course covers the basic of the programming language. The staff are very friendly and supportive in teaching.
Contact
Phone: 082993 44698
Website: https://unitec-computer-education-center.business.site/
Rank 6: NIIT Kanpur
NIIT branches are almost over various reputed cities in the country and have a branch in Kanpur too it is located in NIIT Mall Road, Kanpur. The batch is nominal and is divided into small groups for a better learning experience and also has a very good set of trained staff. It is a good python Institutes in Kanpur.
Contact
Website: https://www.niit.com/india/
Rank 7: KIC Education Computer Training Institute
KIC Education Computer Training Institute is located in Karahi Khandepur Main Road. Its operating time is from 5 pm-9 pm it has a good set of reviews from students who have learned in that institution. It a good and one of the well-known python Institutes in Kanpur.
It has experienced and certified faculties as compared to most of the training institutes in Kanpur for the topic of mobile app development!
Contact
Phone: 9044819182
Website: https://kalyaninstitute.wordpress.com/
The content published on this page is a compiled result of What After College's Research team. The parameters of the research and the content structure are devised by What After College's Research Team and it is not in any way related to rankings done by governmental bodies. This research has purely been done by a third party. Kindly contact at +91-96432-09209 to make desired changes in the contact information related to your college.
Conclusion
Many have been recently trending topics such as AI, machine learning. This could not be possible without the help of one powerful tool name python so learning will make you earn a good job.
All these top 7 training institutes are very popular in the whole city of Kanpur!
They also take less fees as compared to the other institutes.
All these institutes are located in such a place that they can be accessed using almost all the transport modes.
Learn Python
Learn Python with WAC
Other Skills in Demand